ZEDERNA cedar wood shoe insoles are sweat-absorbing, anti-bacterial, and naturally deodorizing. They are very effective to stop sweaty feet issues and eliminate foot and shoe odor permanently.
Foot and shoe odor are not a direct result of sweaty feet. Your feet sweat naturally, but when sweat stays on the skin it gets broken down by bacteria
creating unpleasant odor and an ideal climate for fungal infections to form and spread. This is where Zederna Cedar Soles come into effect:
Sweat-absorbing: Cedar wood naturally absorbs foot sweat and keeps your feet dry and fresh all day
Anti-bacterial: Natural anti-bacterial properties of the cedar wood prevent the odor causing bacteria from forming and spreading
Deodorizing: Cedar wood essential oils effuse a pleasant fragrance and serve as a natural shoe deodorizer
affected skin
(1)  Feet sweat naturally and moisture builds up in your shoes...
(2)  This damp and warm in-shoe climate unsettles the natural balance of your skin bacteria in 
an unhealthy way...
(3)  And creates the perfect environment for harmful bacteria and funguses to grow.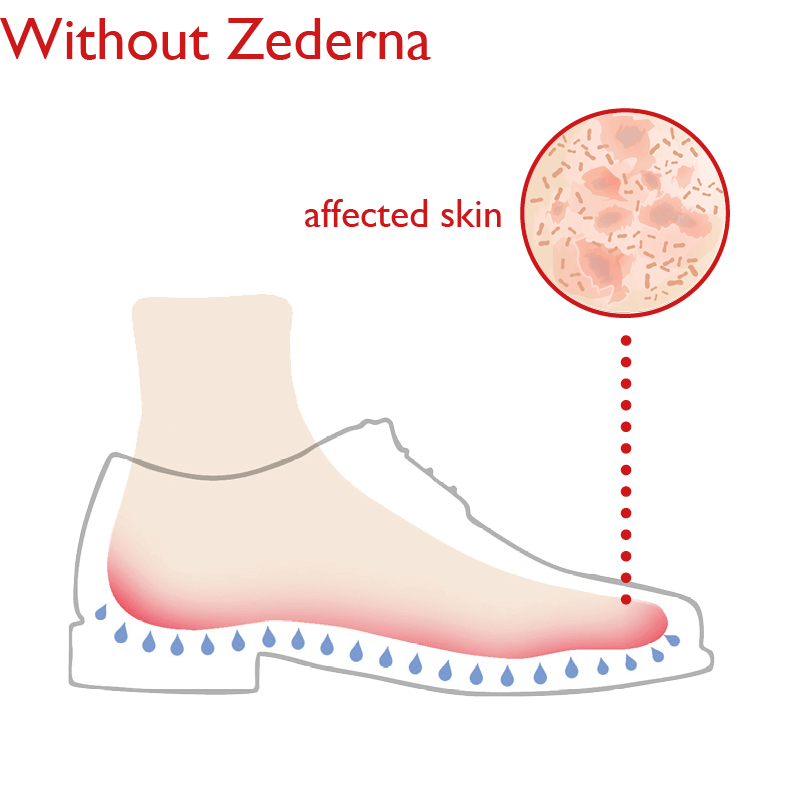 The result: Foot odor, itchy skin, and sometimes even more severe foot issues such as foot and nail fungus.
healthy skin
(1)  The Zederna Cedar Soles are made of cedar wood and cotton, which absorb sweat and excess body moisture...
(2)  The natural anti-bacterial properties of the cedar wood prevent harmful bacteria from growing and cedar essential oils effuse a pleasant scent...
(3)  This keeps your in-shoe environment dry and comfortable and maintains the natural and healthy balance of your skin.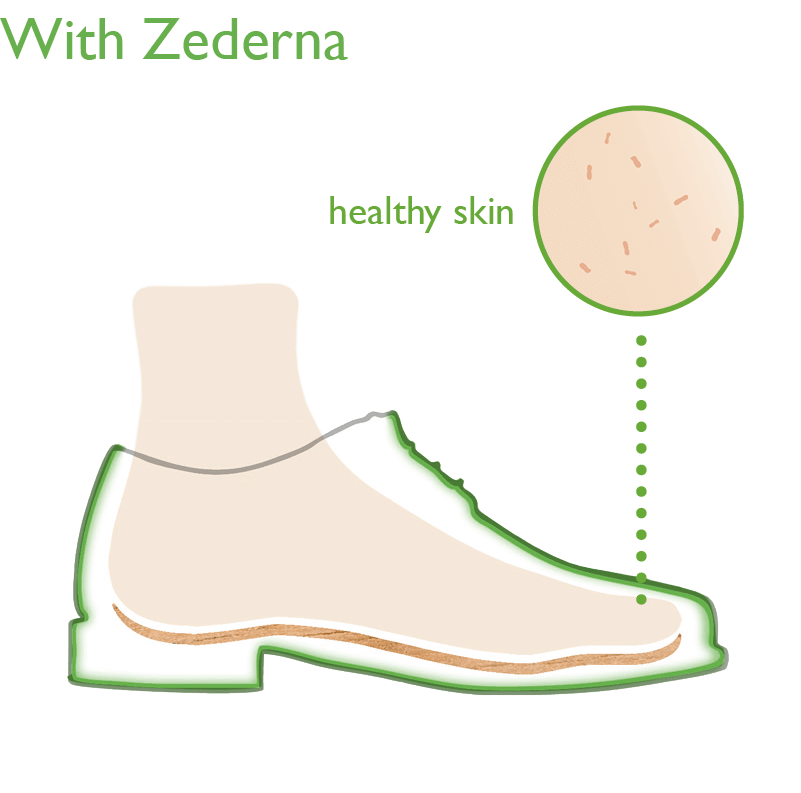 The result: Healthy feet and fresh shoes. Cedar wood insoles help to eliminate and prevent the recurrence of foot odor, athlete's foot and nail fungus.
Cedar Soles are ideal for both adults and children who want

to keep their feet and shoes fresh and healthy
in a natural (no chemicals or artificial fragrances used)and
convenient way (no daily routines with sprays, powders or creams)
stop sweaty feet issues
eliminate and prevent the recurrence of foot and shoe odour
support the treatment of athlete's foot or foot and nail fungus

Their insulating properties and comfortable fit make them perfect for

business professionals,
people who wear shoes without socks,
people who suffer from cold feet and
people who are on their feet most of the day
Because they are 100% natural (no chemicals or artificial fragrances used) there are no side effects or restrictions for usage.
Simply unwrap your Zederna Cedar Soles and place them in your shoes (wooden side facing up)
Wear them with or without socks, every day, and in all types of closed shoes.
They are flexible and will comfortably mould to your feet and shoes after just a few steps (even if you place them on top of your orthotic insoles)
Used daily Zederna Cedar Soles will lose their natural properties after approximately three months at which point they should be replaced with a new pair.
Before replacement is necessary they can be cleaned by hand-washing the cedar wood carefully with mild soap in lukewarm water, and drying them at room temperature wooden side facing down (do not dry in direct sunlight or on radiators!)
Order
Zederna
Cedar Soles
Order Zederna Insoles made of cedar wood in your individual shoe size.

Depending on your individual needs you can choose between the "Classic Insole" for normal sweat production and our "Insole with Silver Ions" for increased sweat production.

Made for you with care in our small German manufacture.


The Power of Natural Cedar Wood for your Feet and Shoes
Zederna
Subscription Offer
Benefit from our Subscription Prices starting at $15.00.
Plus: 50% discount on your first delivery.
Subscription can be canceled anytime.
Automatic delivery every 2 or 3 months.




The Power of Natural Cedar Wood for your Feet and Shoes